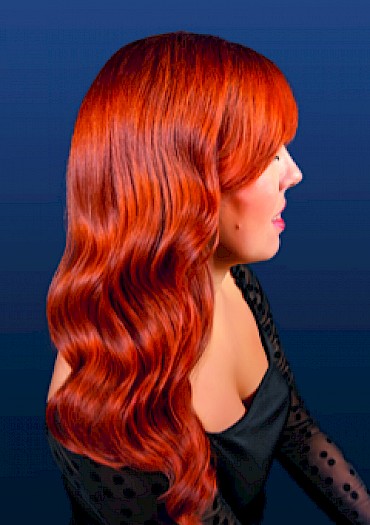 High-Vis Red
From strawberry, to copper, to rich auburn, red hair will always turn heads, and this year's top colour trend for winter is a more vibrant red.
Georgia Matthews, senior technician at Gregory Couzens, has created this sumptuous colour for Hayley and predicts that this look will be hot for winter.
Georgia said: "Deciding on the right colour tone is crucial to achieving a successful result. We all naturally have warmer or cooler skin tones and this should be taken into consideration when choosing the best shade for your hair. Hayley is naturally a light brunette and orange-tinged red is the most suitable to complement her creamy skin tones."
There are some fabulous followers of this 'Red Revolution' from Julia Roberts and Julianne Moore, to Susan Sarandon, Rihanna and Nicole Kidman.
After many months away from salons due to the lockdown, clients are more open for a change, not only with haircuts but also with colour. The balayage that has proven very popular over the last few years is now being taken to another level, and as we move into winter, inspiration is being taken from the warmer and more
vibrant colours.
It is so important when choosing a colour that it complements your skin and that the colour is translucent, providing multiple tones for a more luxurious and natural look. Cheaper colours like box dye are a bit like paint and have a tendency to make hair look flat and artificial.
Be brave, be bold and choose a richer more vibrant colour that will turn heads.