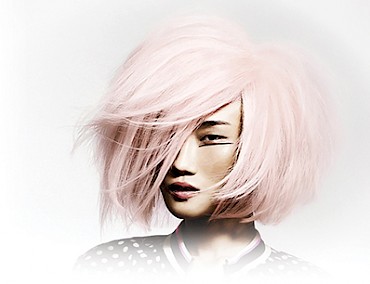 Princess Bubblegum
The trend for autumn shouts out fun and embraces your femininity.
Many celebrities are enjoying the bubblegum pink look. Elle Fanning, Jesy Nelson of Little Mix, Kim Kardashian and Ariana Grande to name a few.
It's perfect for blondes who have grown tired of their usual balayage or grown out highlights. It also looks fabulous on grey hair, can be incredibly subtle and washes out in a short period of time.
Let your hair do the talking, colour clashing is good, make a bold statement, it's incredibly uplifting.
Imagine waking up in the morning with baby pink hair, I guarantee that it will bring a smile to your face.
This look can be very subtle and looks fabulous on all ages, even if you are dark with a few grey hairs, the pink will not colour your dark hair, only the grey.
As we move into autumn, the trend will move a stage further, warm mauve, and for the very adventurous, bold bright fuchsia will be everywhere, so take the plunge, be brave, be proud of your feminine strength.
A 'Bubblegum Bob' is a departure from the conventional hair that has been prescribed to women over the past decade, it announces that you, a modern woman, will not be restricted by the norms of what is and what isn't 'appropriate'. Stop being dictated to, be bright, be bold, be that charismatic woman that you are.