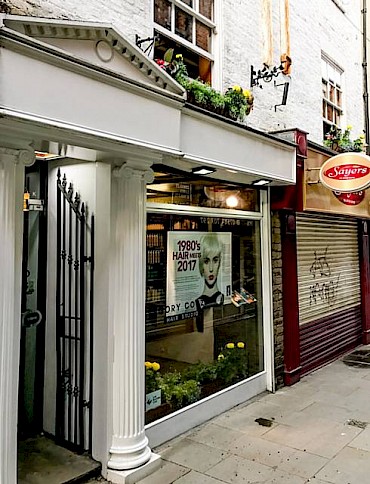 Couzens Hair Studio celebrates 34th anniversary on The Walk
Couzens Hair Studio celebrated its 34th anniversary on The Walk on Tuesday (18 July). 

The long-standing business was established in 1983 by Gregory Couzens, who owns the salon with his daughter, Georgia. 

Greg commented: "The last 34 years have been a rollercoaster. We've seen some incredible changes in the town from being the first premier salon to watching many more appear. Fortunately, we've stood the test of time. We're one of the longest standing businesses in the town centre.
"I'd like to extend a huge thank you to all staff, past and present, and of course, the customers who have supported us for so long, many of whom have been with us from the beginning."

Greg set up the award-winning salon in the Georgian building, dating to around 1820, offering the highest standards of service in an opulent environment, after training at the world-famous Vidal Sassoon in Leeds.

He added: "The older the building gets, the better it looks. We gutted the interior when we moved in because it was in such bad condition. The original inspiration for the remodelling was the Town Hall with a Victorian gothic revival."

Prior to the studio, the building previously used to house McCartney's Outfitters and Burney's Café. The location, in the Walk Conservation Area, was chosen for a myriad of reasons, including cost and prime position in the town centre.

Greg explained: "When I opened the business, I didn't think I'd still be here today. I just wondered if it would work or not. I chose The Walk because I wanted a location in the centre and I couldn't afford Yorkshire Street." 

He added: "I saw a lot of potential in The Walk. It's still not reached its full potential, but it's looking fabulous because of the flowers."

The Walk has been transformed over the last few months, with the addition of floral window boxes and baskets with two three-tiered heritage planters at each end of the narrow street.