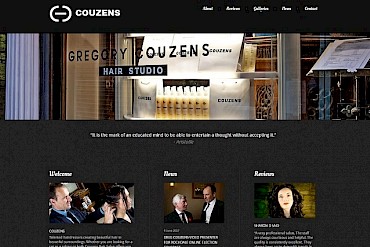 Couzens Hair Studio launches new website
Couzens Hair Studio has launched a new website to complement the well-established brand using a contemporary look and feel. 

Couzens was established in 1983 and is owned by father and daughter, Gregory and Georgia Couzens.
Gregset up the award-winning salon after training at Vidal Sassoon.

Speaking about his decision to use RO Web Solutions (part of Rochdale Online) to build his site, he said: "It's important to use technology and get the best available and RO Web Solutions provided me with all my needs.
The site is very flexible and I can control it myself, which is a huge asset; I can keep the site up-to-date and keep the content more interesting, which I couldn't previously."

The fully-optimised site is aesthetically pleasing in a monochrome palette, featuring a gallery of men and women's styles, reviews and a news/blog section.
An embedded Google Map shows the location of the salon on The Walk, a Rochdale town centre conservation area.
Photographs of the salon are displayed, from the stunning architecture to the luxurious interior, and a virtual tour of the salon completes the experience.
Social media buttons have been linked to the the Couzens Facebook, Twitter and Pinterest channels.

It is important that websites are optimised to be viewed on multiple devices and hence the site is a responsive design that adapts according to the device it is being viewed on. 

A powerful content management system (CMS) is in place in the background, allowing for control over all the content on the site 24/7.

Greg said: "We have had an absolutely fabulous response so far. It is still in its infancy but I am hoping to expand the site to sell products such as our hair and body bars and organic shampoos. 

"I'm also looking into the possibility of booking online so we're accessible 24 hours a day without going through reception."