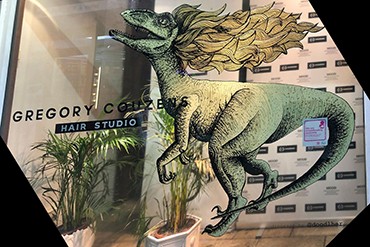 Dinosaur Window Mural
When your town becomes home to a dinosaur treasure it is hard not to get on board. Couzens Hair Studio has fully embraced the town's dinosaur celebrations with a specially commissioned window display.
Greg Couzens got in touch with Victoria Whitaker (aka Doodlher), a self taught artist and illustrator based in Rochdale, after seeing the first instalments of her 'Dinosaurs in Rochdale doodle series'. He asked whether I would be up for creating a one-off design for the Couzens Hair Studio window, and Victoria said yes.
From Sketch to Window Vinyl
Once Victoria had completed my pen and ink drawing, she digitised the original drawing to add colour and supersized it from seven inches to five feet! At this size it was ready to be printed as a window vinyl and installed with her trusty squeegee and squirty water bottle.
Victoria had to get creative to give the design extra POP. The vinyl print's transparency made our lovely dinosaur appear too camouflaged for her liking. To remedy this, she gave the vinyl a once over with her trusty white POSCA pen.
Victoria said: "I am really pleased with the results of this project. It was an absolute joy conceptualising this dinosaur design then taking it all the way from my sketchbook to installation in the window.
"Be sure to head down The Walk in Rochdale town centre to check it out for yourself."
To see more of Victoria's work, visit: https://doodlher.com/